Jaap Stephenson, Luke Scheeren, Shitty Skywalker, it doesn't matter. They like each other's company ever since meeting 20 years ago. They chat, they celebrate, they drink, they smell and sometimes work together. They decided to play a surrealist game you might know.
Exquisite Corpse is a game in which each person takes a turn at drawing or writing on a piece of paper before folding it to cover their contribution, it is then handed to the next collaborator to complete their addition. It became popular in the 1920s where it was used by artists from the Surrealist Movement to create collaborative compositions. 

Inspired by this method Jaap & Luke set about creating their own photographic surrealist game using their own body parts (body, legs, head and feet) while also inventing obscure titles for the characters that evolved. 

Although originally the pair had planned to work together on this project in real life, Covid 19 had other ideas. With both photographers based in different cities (Amsterdam and London) the project became a natural correspondence between the pair as a result of the global pandemic. Over the course of two years Luke and Jaap became surrealist pen pals - sharing body parts back and forth, constructing weird and wonderful creations. 

The vast number of possible combinations is a mind blowing 65,536 different characters. 
1st edition of 1000 copies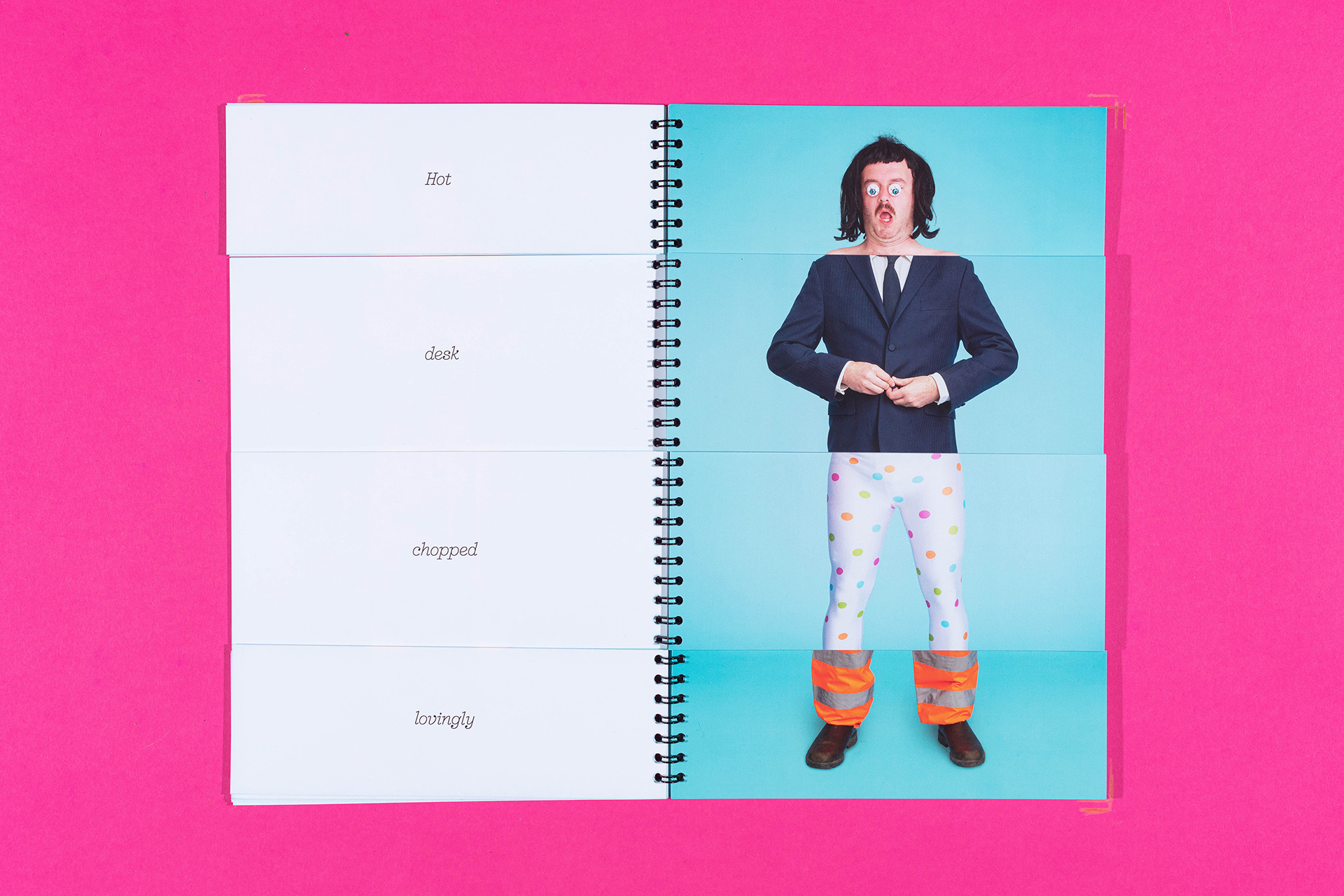 Meer informatie over de fotoroman Flipping The Bird:
'Flipping the Bird' is een verhalend beeldverslag, een fotoroman eigenlijk, van een lange en intensieve wandeling in de duinen, waarbij de hoofdpersoon zich opnieuw probeert te verbinden met de natuur. Tijdens deze wandeling wordt hij langzaam verliefd op het landschap, de flora en de fauna en hij denkt dat deze liefde wederzijds is. Er ontstaat een bijzondere, surrealistische, humoristische en confronterende dialoog tussen mens, flora en fauna. Op het hoogtepunt komt de hoofdpersoon erachter of de liefde wederzijds is en kiest hij zijn weg...
Het verhaal speelt zich af in de duinen in verband met de voortdurende dreiging van de zee voor mijn land. Het menselijk handelen en de keuzes die we nu en in de toekomst maken zijn daarbij van groot belang.
Kleine quote waardoor dit project voor mij urgent werd:
 "Ik ben begonnen met wandelen en fotograferen in het bos en later de duinen en vond bij de dood van mijn Opa het fotoboek De Ramp van 1953 in zijn kast. Dit boek gaf me de ultieme urgentie om van dit wandelen een ​verhaal te maken. Een ramp die ver weg lijkt, maar die ik wil laten bezinken in het collectieve geheugen om herhaling te voorkomen. Dit verhaal was voor mij het sleutelmoment om dit project voort te zetten."
De fotoroman specificaties: 216 p, ills colour, 13,5x20,5 cm, pb, Engelse en Nederlandse uitgave.
Synopsis of the photonovel Flipping The Bird:
'Flipping the Bird' is the narrative visual report, a photo novel actually, of a long and intensive walk in the dunes, in which the main character tries to reconnect with nature. During this walk he slowly falls in love with the landscape, the flora and the fauna and he thinks that this love is mutual. A special, surreal, humorous and confrontational dialogue is created between people, flora and fauna. At the climax the main character finds out if the love is reciprocal and chooses his path...
The story is set in the dunes in connection with the continuous threat of the sea to my country. Human actions and the choices we make now and in the future are of great importance in this regard. 
Jaap Scheeren: "I started out walking and photographing in the woods and later the dunes and found the ultimate urgency to make this walking a project in The flooding Disaster of 1953, especially when I came across the book of the same name in my grandfather's bookcase. A disaster that seems far away, but which I want to settle in the collective memory to prevent a repetition. For me, this story was the key moment to continue this project."
216 p, ills colour, 13,5 x 20,5 cm, pb, English and Dutch version
Naar aanleiding van de publicatie van het project Flipping The Bird in het Volkskrant magazine van 11 juni bied ik 2 foto's in een gelimiteerde oplage aan.
Elke foto wordt met grote zorg afgedrukt op Canson Baryta fine art paper op het formaat van 20x30 cm (beeld: 19x28,5) in een genummerde en gesigneerde oplage van 100. De foto's kosten €150 per afdruk, dit is inclusief BTW en verzendkosten binnen Nederland.
Als u weet welke foto's u wilt, mailt u mij de titels: Het Kuiken of Fuck You Tree #4, zie hieronder. Mijn email adres is jaapscheeren@gmail.com. Verwachtte levertijd is 4 weken aangezien ik alle beelden tegelijk zal afdrukken. 4 juli zal deze actie eindigen.
Following the publication of the Flipping The Bird project in the Volkskrant magazine of 11 June, I am offering three photographs in a limited edition. 
Each photo is printed with great care on high quality paper of 20x30 cm (image: 19x28.5) in a numbered and signed edition of 100. The photos cost €150 per print, this includes VAT and shipping costs within the Netherlands.

If you know which photographs you would like, please mail me the titles: The Crow, The Chick or Fuck You Tree #4, see below. My email address is jaapscheeren@gmail.com. Expected delivery time is 4 weeks as I will print all images at once. 4 July this action will end.

The Volkskrant publication is just a teaser of the whole story. The book that was presented last Thursday in FOAM contains 216 pages, see a synopsis and a few pages from the book below the images. You can order the book at the publisher fw:books.
Mocht u geinteresseerd zijn in de aankoop van onderstaande prints of andere objecten. Stuur een mail naar jaapscheeren@gmail.com.